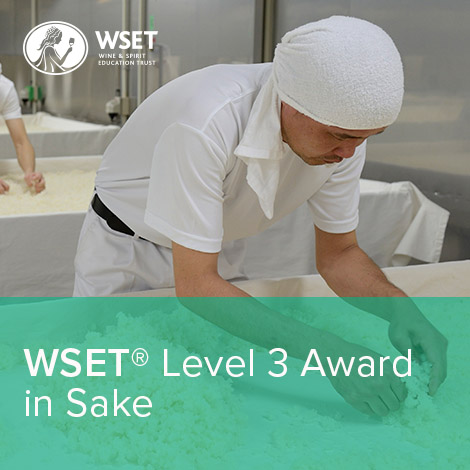 The top qualification in sake for professionals and enthusiasts who wish to develop a high-level knowledge of this unique beverage
This course takes an in-depth look at the fascinating world of sake. Through the course you will gain a detailed understanding of the various production methods and their impact on style, quality and price. You will taste a wide range of sakes to complement your theoretical learning and build your analytical tasting skills.
Successful students will receive a WSET certificate and lapel pin, and will be able to use the associated WSET certified logo.
What you will learn
The main techniques that are used in the production of sake and how they influence style and quality
The principal and speciality categories of sake
The sake industry and the commercial importance of sake in the Japanese and export markets
The principles behind the storage, selection and service of sake
Tutored tastings of approximately 37 sakes
How to taste sake, and evaluate quality, identity and price, using the WSET Level 3 Systematic Approach to Tasting Sake® (SAT)
Do I need prior knowledge?
No prior learning in the subject is required to enrol on this course, however, students will be required to complete a monitored online study programme which will commence two weeks before attending the classroom-based element of the course. All study materials for this course will be made available online upon your registration.
All classes as well as the examination are delivered in English therefore a good level of English is necessary.
Course format
At AccademiaVino we offer this classroom-based course over four consecutive days.
Please note the consecutive day delivery is intensive. In addition to the classroom time, you will also be required to complete two weeks of online study time before the course starts.
For further information on the contents of the course, please download the full course specification.