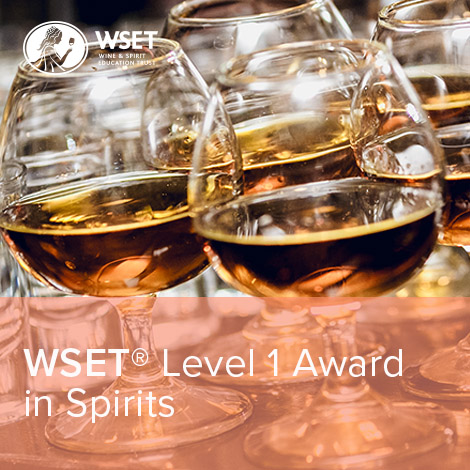 During this course you will be introduced to styles, production methods and the service of spirits. The programme includes the tasting of 16 spirit samples. No prior knowledge is required as the course is designed to introduce spirits in an interactive, structured and concise manner. This course will suit anyone who wishes to know more about spirits, for their own personal interest or because they wish to start their career in the spirit, mixology or hospitality business.
Programme outline
The main categories of spirits
Process of distillation
Factors affecting the flavour of spirits
The WSET Level 1 Systematic Approach to Tasting Spirits
Health, safety and legal issues
Service and sales of spirits
Exam
This course is examined with a 45 minute question paper consisting of 30 multiple choice questions. The pass mark is 70% and the exam takes place in the last session of the course.
Course Format
This version of the course is held over two intensive sessions, morning and afternoon of the same day, from 9:30 a.m. to 5:00 p.m.
---
Download the full course specification (PDF)
---