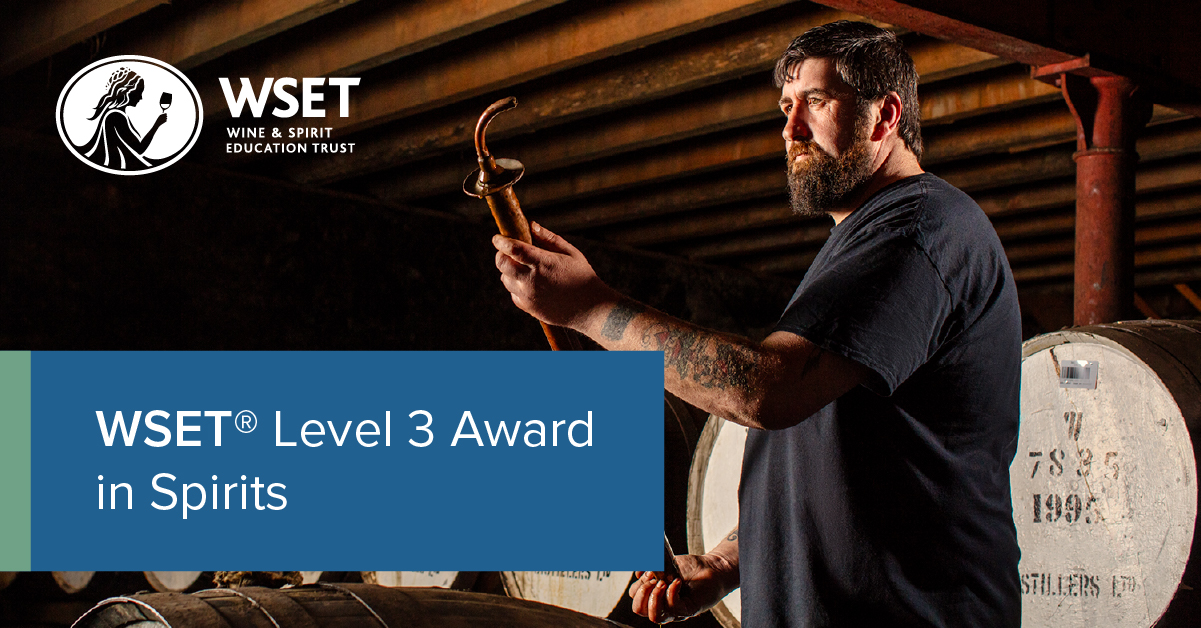 Master the World of Spirits with our WSET Level 3 Course!
Unlock the secrets of distillation and Immerse yourself in the fascinating world of spirits!
Are you passionate about spirits and eager to expand your knowledge? Join our WSET Level 3 in Spirits course, the ultimate journey into the diverse and captivating realm of spirits, and elevate your appreciation and understanding to new heights. Designed for advanced enthusiasts and professionals alike, this comprehensive course will equip you with the expertise to taste, evaluate, and confidently discuss a wide array of spirits from around the globe.
Course highlights:
Expert-Led instruction: learn from our WSET-certified educators, who will guide you through the intricate world of spirits, sharing their extensive experience and deep knowledge.

Comprehensive curriculum: delve into the production process, raw materials, and techniques used in distillation to comprehend the unique character of each spirit. Explore the major international categories, including whisky, rum, vodka, gin, tequila, mezcal, brandy, and liqueurs, as well as the lesser-known but equally fascinating local specialties.

Master the art of tasting: hone your sensory evaluation skills with over 60 carefully selected samples, spanning the breadth of the spirits world. Learn to identify the key flavors, aromas, and characteristics, while understanding the impact of age, region, and production methods on the final product.

Global perspective: gain insight into the historical and cultural significance of spirits in different regions, and discover how modern trends and innovations are shaping the industry today.

Networking Opportunities: connect with like-minded individuals and expand your network in the spirits industry, fostering valuable relationships that can benefit your personal and professional growth.

WSET Certification: Upon successful completion of the course and examination, you will earn earn the prestigious WSET Level 3 Award in Spirits, an internationally recognized qualification that showcases your expertise and dedication to the world of spirits.
What you will gain:
A comprehensive understanding of the production methods, history, and culture of the world's most popular spirits
Confidence in evaluating and discussing spirits, their quality, and their style
Advanced tasting skills and the ability to provide educated recommendations
A prestigious 

WSET Level 3 Award in Spirits

 certificate, enhancing your professional credibility and career prospects
Who Should Attend:
This course is perfect for industry professionals such as bartenders, beverage managers, and spirits buyers, as well as passionate enthusiasts seeking to deepen their understanding and appreciation of spirits. Previous experience with spirits or completion of the WSET Level 2 in Spirits is highly recommended but not required.
Click here to download the full course specification.
Don't miss this opportunity to immerse yourself in the enthralling world of spirits and earn a prestigious qualification. Secure your spot today and embark on a journey that will transform your passion into expertise!
---
Study options
Our WSET Level 3 in Spirits courses are offered in three formats:
Intensive five-day in-person classrom courses
Six hours per day, Monday morning to Friday evening, plus exam.
This is the perfect option for those who can take a week to attend the classroom course in Milan taking full advantage of the personal contact with the instructor and other students.
Intensive five-day live videoconferencing courses
Dates and times coincide with classroom courses.
Ideal for students who can take the time but prefer participating from the confort of their home or place of work. Our Hybrid Classroom format guarantees even in this case full interaction both with the instructor and with other students in the class.
Course fee includes our exclusive MignonVino® tasting samples.
Asyncronous e-learning courses
This is the preferred option for those who need a flexyble study option with no fixed lesson times.
The course lasts nine weeks during which you will be assisted by experienced online educators.
A one-day videoconferencing tasting tutorial is included.
---
Assessment
The course assessment is split into two essential units: Unit 1 focuses on your theoretical understanding of the subject and your ability to communicate this, while Unit 2 focuses on your tasting abilities. Both parts are examined in person at AccademiaVino Milan on the same day, starting with the tasting, with a short break between the papers.
Tasting
The assessment is based on a blind tasting of two spirits which must be completed in 30 minutes. This is designed to evaluate your ability to accurately describe a spirit, identify its category and draw a conclusion on its quality level based on your observations.
You must attain a combined mark of 55% across the two spirits to pass.
Theory
This is assessed by a closed book examination in two parts and must be completed in two hours.
Part 1 comprises 50 multiple-choice questions designed to assess your knowledge.
Part 2 is a question paper requiring written answers. It consists of six 5-mark questions, three 10-mark questions and one 20-mark question. These will assess your description and explanation skills in reference to what you have learned throughout the course.
You must attain a minimum mark of 55% in both parts to pass.